DVD Lotte from Gadgetville EST
EAN:
4741281318809
Qty:
Pre Order
The main character of the film, girl dog Lotte lives in Gadgetville together with her friends Bruno the kitten and Albert the little rabbit on the shore of a large sea. Every year the villagers hold a competition of new inventions. One of the most famous inventors in the village is Lotte's father Oskar. Oskar's main rival is Adalbert the rabbit. Lotte and Bruno find a waterlogged book in the sea on the eve of the next competition. Susumu the honeybee, a gardener and judo coach from Japan, crawls out from between the pages of the book.
Video
| | |
| --- | --- |
| Audio | eesti |
| Length | 78 min |
| Subtitles | eesti, inglise, prantsuse, vene |
One night, something unexpected happens in Gadgetville – two mysterious strangers sneak into Gadgetville. They want to secretly take a stone away from Klaus which he had found on his last trip to the mountains. Klaus and Lotte set out to investigate the matter and decide to visit Klaus's travelling companions who kept the other two stones. Soon it turns out that there are others who are after those stones. There are exciting and funny adventures throughout the film to the end.
,
EAN:
4741281324060 ,
Qty:
13
16,00 €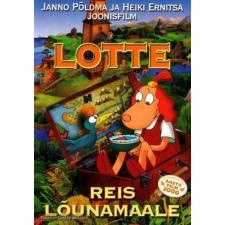 Little baby bird Pippo falls behind his flock on their way south for the winter and lands in the chimney of little girl dog Lotte. Lotte decides that Pippo must be taken south to be reunited with his flock. Lotte's father, Oskar the inventor, has just finished building a flying machine. Oskar's friend, the old traveler dog Klaus, is invited along on the trip. The exciting journey south begins. New adventures and encounters await our travelers in each episode of the serial. Many of these new acquaintances have run into difficulties and the travelers help them.
,
EAN:
4741281316355 ,
Qty:
7
16,00 €